Looking this good should be a crime
When it comes to clothes, we gotta make sure your Boss is looking right. Plus did we tell you socks are back? Let's play dress up!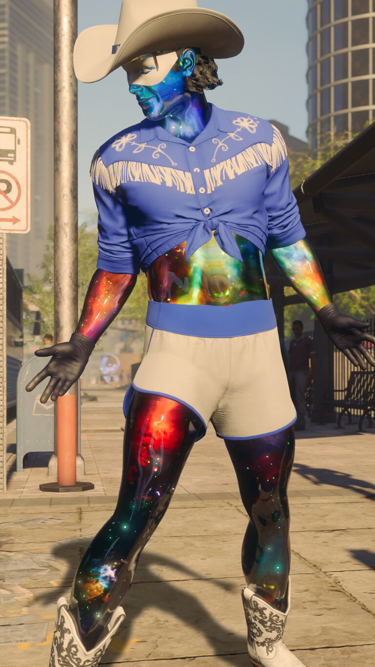 It's up to you how much you customize your character's outfit, but we can assure you you'll have a damn good time fiddling, however far you decide to go…
First of all, we're ecstatic that layered clothing is back. It allows you to fully turn up your style; there's a wide range of clothes and accessories available at the start of your journey, with many more to be unlocked throughout the course of the game. A shirt under a jacket, socks under trousers and under shoes – this offers more customization fidelity and allows you to show off your style. So lets go deeper into the literally hundreds of options that we cannot wait for you to get your hands on with.
How's your head? There will be no complaints because there's loads of hats to choose from. Will you go all Indiana Jones with an archeologist's fedora? Make like a piece of furniture with a lampshade? or perhaps a nice shiny tin foil hat is more your bag? Hat or helmet? That is the question, there's a range of ways accessorize your Boss's face, Kevin's Idols trophy helmet included, along with upper and lower face items, including sunglasses, facemasks and bandanas. All are color customizable to make sure you truly stand out from the crowd.
Upper body options include shirts, cute tops, jackets, necklaces, underwear, rings, bracelets and piercings. And for your lower half there are trousers, skirts, shorts and underwear to wrap that fine tushy in. Not forgetting the all important socks and shoes. Create any combo you want, there is even a trash bag dress for your classiest events, obviously. Your wardrobe will grow as you progress through Santo Ileso – with shops galore to buy from and unlockable items as you gain your power.
Your outfit can be created and changed at any time via the wardrobe in your room in Saints HQ or via the new Style App on your phone, allowing you to change up your look anywhere at (almost) any time. So if you change your mind about your crop top/sneakers/cap/earrings/whatever, you can switch it up on the fly. Just out there in public, don't think about that too hard.
EVERYTHING is customizable – choose your favorite colors for your outfit, make it really yours with all of the colors of the spectrum available to play with, and all elements of each item up for tweaking. You become the designer, it's the House of You-cci.
Saints Row has a long history of costumes like the Hot Dog suit and Beer Mascot. These still exist and are earned through progress in the game. Do your crimes in true style, no-one is going to be able to identify you in a huge mascot suit, no way. Its fine.
In addition, Planet Saints unlocks Saints branded clothing options. It's a top tier venture, meaning it unlocks when you are really getting into this crime boss thing. Basically, you'll have to work to get this one. But we believe in you, Boss.
Seeing as you are flying with your criminal empire, we are here to tell you that your wingsuit is customizable too. So you can look badass when you are soaring over Santo Ileso and when you fuck up the landing and faceplant the pavement.
Oh, one more thing, did we mention socks are back?