Spice up your ride
A world of vehicular fun awaits for car enthusiasts!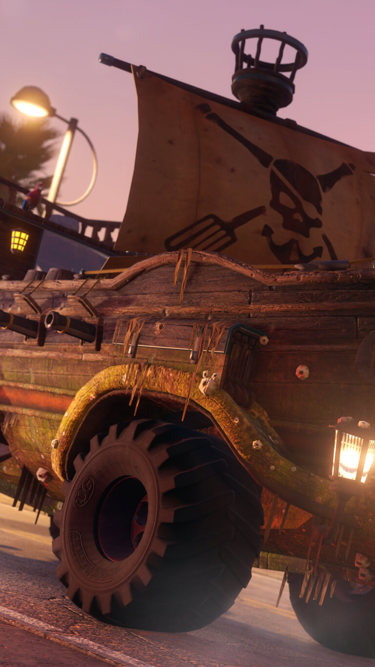 Over the course of the game you'll gain access to over 80 vehicles – each with a ton of deep customization options – from cars to bikes, trucks and boats, and plenty of surprises.
Vehicles are either earned via game rewards or "found" (stolen) and stored in your garage, and there's a number of customization opportunities for you to get your hands on.
While there are presets (more on that later), customizing vehicles in Saints Row is where gearheads will get their kicks. It's via an extensive suite of options, allowing you to alter just about every part of the vehicle. One of the deepest customization pools in the game – you can literally spend hours upgrading your ride.
The paint options are where you can alter a vehicle's color, grime, and age and many other parts of the vehicle's surfaces, like trim paint, interior color, rim paint, window tints and decals.
The body mods section allows players to customize all the vehicles parts, including the body, bumpers, grill, hood, mirrors, skirts, and spoilers. This also adjusts to allow more and different options, depending on the type of vehicle you are customizing.
The tire size, width and profiles are all adjustable and rim types can be swapped. Plus, either both axles or front and back individually can be altered.
The audio section is where you can make your whip sound just right. Engines, horns, and transmissions options are up for grabs – make that tiny little Kiki sound like a Compton if you like!
Change your equipment to offer new options to play with as you speed through Santo Ileso. These options change depending on the vehicle. Stuff like Nitrous, Off-Road Kits and Towing cables can be enabled here. Plus you can combine all three of these for a clear advantage over your on-road adversaries.
Head on down to Jim Robs to get yourself an upgrade kit, there are three in total and each adds to the base vehicle's stats. Max speed, performance, durability, and off-road will improve with each upgrade. Make that golf kart the strongest damn golf kart you ever did see.
It makes sense to tinker with your cars because each vehicle has a signature ability that unlocks when you complete its challenge, yep, it does get even better. Unlock maneuvers like crab steering (where all four wheels can turn at the same time), ejector seats (self-explanatory, really), ball and chain, kneecappers, infinite boost, air control and more. So get out there and acquire as many vehicles as you can, complete the challenge and return to the garage to get its ability.
For those of you who aren't into cars, it's OK, there are several preset vehicles that even before customization are pretty sick. The Vindicator is a retro rocket car with characteristics that create eye-popping looks. The Schooner is mashup of a covered wagon and roadster that cannot be missed. The Gargantua's, monster trucks are another stand out vehicle. Food Trucks aren't just perfect for your less-than-legal deliveries, they are also a fun way to get from A to B, with a jingle. There's also a go-kart with a body option for a bathtub, a clown car and an oil tycoon convertible.
And finally, as you may have already noticed, many classic Saints Row vehicles have returned alongside the new ones. Whatever your style, traverse Santo Ileso with your own unique flair. Go nuts!