Notes de mise à jour
Les dernières informations concernant les mises à jour de Saints Row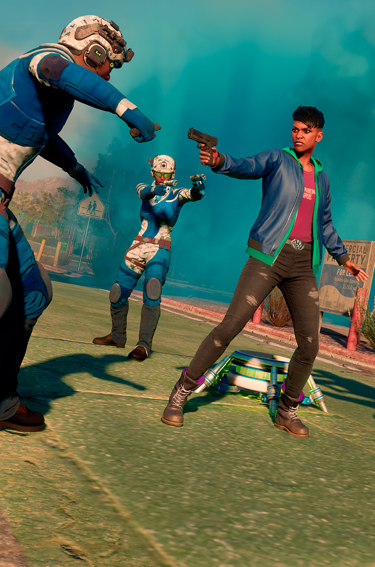 Hey les Saints, merci pour votre soutien lors du lancement de Saints Row ! Cela a été incroyable de vous voir aussi nombreux à découvrir notre jeu et partager votre expérience avec nous, que ce soit en streaming, en postant sur les réseaux sociaux, en partageant des captures d'écran… Nous avons lu attentivement vos retours et suggestions, et nous sommes conscients des problèmes que certains joueurs ont rencontrés.
Nous travaillons déjà sur une série de mises à jour pour toutes les plateformes qui sera lancée dans les jours et semaines à venir. En raison des différents processus de soumission, ces mises à jour peuvent ne pas recevoir un lancement simultané sur toutes les plateformes. Il nous faut un peu de temps pour tester, vérifier et corriger les différents problèmes ; ainsi de nouvelles mises à jour arriveront au fur et à mesure.
Vous trouverez régulièrement ici des notes de patch et un récapitulatif des dernières mises à jour.
Comme toujours, si vous souhaitez nous faire part de vos retours ou si vous rencontrez des problèmes, rendez-vous sur notre site : https://bit.ly/SaintsRowSupport. N'hésitez pas à partager le plus d'informations possible afin que nous puissions rendre Santo Ileso encore meilleur !
-L'équipe Saints Row


03.02.23
Year of the Rabbit
A free cosmetic update celebrating the Year Of The Rabbit has been released and can now be found your inventory. This update includes:
• Year of the Rabbit mask
• Large Rabbit HQ collectible
• Fireworks emote
• Lantern lighting emote
• Confetti throw emote
• Red envelope "make it rain" emote
We have also released a small patch to further address stability in Santo Ileso! Check out the changes below:
General
Fixed a crash when shooting the Pugnus Sanctus Dei through the Quantum Aperture Skill
Fixed a potential drop in framerate on the PS5 during the side hustle Riding Shotgun Davey
Co-op
Fixed a crash that could occur after destroying the statue in the mission Severance Package
Fixed a crash that could occur when customizing Gabriel's car in the mission Neenah's Car
Fixed a crash that could occur while wingsuiting to the radio tower near Old Town
Fixed an infinite load that could occur when the host would reach a cinematic while the client was on the waiting to join screen
Fixed an infinite load that could occur when starting the cinematic for Saints Tower
Fixed an issue where the host was unable to invite players through the Xbox system UI
Epic
Fixed an issue where the game would open on the main monitor despite being set to the secondary monitor
Fixed an issue when applying a change in Fullscreen mode wouldn't always change the display
Fixed an issue with Vulkan where the player could notice performance issues when attempting to change between FSR: FidelityFX Super Resolution 2 settings


What's coming in the November Update
It's been a few weeks since we talked about our intentions for this year's Saints Row content and beyond, so today we'd like to give a little more detail about what you can expect from the November Update which has been completed, tested, submitted and arrives later this month.
We would also like to take this opportunity to thank you for your patience while we got this update ready for release, it includes over 200 fixes and quality of life updates, so it's a beast!
Here's a preview of what to expect when the update drops later in November:
Co-op
Co-op has been a huge priority for us. Significant effort has gone into ensuring that this is working as intended – including connectivity, mini map issues and proper credit of player rewards. Fun with a friend in Santo Ileso should be a much smoother experience going forward!
Challenges & Collectibles
Another hot issue in the community has been challenges and collectibles – these should now track properly, and will be awarded to you retroactively if you have already completed the requirement, so make sure you update your game to get that all important 100%!
Quality of Life & New Features
Of course, we have been looking at your feedback and implementing our first set of Quality of Life changes and new features in Saints Row including:
Combat encounters that are better balanced, more fun and more rewarding in terms of progression
More Saints roaming completed districts, as well as introducing new district tiers
Loads of new ways to manage your incredible fleet of vehicles, including more slots to use and 7 new garage locations
You should see more pedestrians and police, collectibles should be easier to find, and you'll be able to escape notoriety levels more easily
A voice pitch slider! One of the most requested features, you'll be able customize your Boss' personality even further
Haptic Feedback for PS5 DualSense controllers is being added back in for weapons
Plus tons more improvements based on your feedback…
We will of course release full change notes alongside the update, get comfortable, because it's a big one!
Stay tuned to our community channels for the latest news on all our updates and improvements so you don't miss a thing.


NOUS TRAVAILLONS ACTUELLEMENT SUR :


Hotfix #2 has now been deployed for Epic Games & PlayStation, Xbox and Stadia are in the approval process with the platforms and we will update you when they are available.
Version Numbers:
Epic Games: 1.1.6.4392638
PlayStation:
PS4 : 1.1.5.4392741
PS5: 1.1.5.4392638
Xbox:
Xbox One: 1.1.5.4392638
Xbox Series X|S: 1.1.5.4392638
Stadia:
We will update this section when the Hotfix is available for Stadia
Download Size: Approx 4GB
Fixes and changes:
Co-op Fixes
Fixed an issue where the host could crash in the Casino instance of the Mayhem Criminal Venture.
Fixed a case where the APC sometimes failed to advance during the objective "Protect the APC" in the mission "First F@cking Day".
Fixed an issue where the client may become unresponsive when progressing through the Mercado instance of the Jim Rob's Criminal Venture.
Fixed an unresponsive state that could occur when dismissing a second game invitation attempt.
Fixed an instance where the client could lose functionality when performing a flaming punch while the mission is being restarted in the Dojo Criminal Venture.
Fixed a case where enemy NPCs could sometimes fall through the map preventing the threat from being completed in the Monte Vista district. Sneaky move on their part but it is no more!
Mission Progression
Fixed the dialogue not triggering that prevented progression during the objective "Talk to Kev" in the mission Fast and the Foodiest. Not being ignored by Kev – life goals.
Fixed an instance where the Nahualli could become trapped behind the wall of the HQ after the mission Corporate Retreat.
Fixed a case where the player could not progress during the objective "Let Grandma Handle This" in the Wanted mission Millennial.
Crashes
Fixed a crash that could occur during the objective "Defend the Castle from Phoenix" in the mission "Unto the Breach".
Fixed a crash that could happen while opening the full screen map after an extended gameplay session.
Fixed a crash when driving to the start point in the mission Unto the Breach.
Fixed cases of infinite loading screens that could occur within missions, side hustles, and criminal venture activities.
Other
Fixed an issue with the police spawning outside the mission area in Drawing Heat. The heat will indeed be drawn now.
Adjusted the spawn point where enemies appear on the overpass instead of where you are during the objective "Take Out the Cops" in the mission "Drawing Heat".
Fixed a partial loss of functionality when pressing the Back button multiple times in the style customization menu.
Fixed instances of unresponsive controls that could occur with player navigation and melee.
Fixed instances of NPCs not spawning correctly during some missions.
Addressed performance issues that could occur after hours of extended gameplay.
Fixed an issue where some of the Marshall attackers were unable to exit vehicles during the mission "Take Me to Church".
Adjusted the APC health total in "First F@cking Day" to be more forgiving.
Fixed NPC vehicles incorrectly despawning during the objective "Defend Hank & Claude" in the mission "Donut Run".
Fixed partial loss of functionality with community sharing when applying a boss and backing out of the apply menu at the same time.
Fixed partial loss of functionality when jumping at or trying to climb unclimbable walls.
Fixed the Playlist App not working when unlocked in the first session of gameplay.
Fixed camera behaviour when attempting to vehicle surf during the objective "Go to Silver Gulch" in the mission "High Noon".
Lessened the frequency of the player getting staggered by doors when exiting vehicles. Your vehicle is now a friend rather than foe.
Fixed a rare case where reloading animations prevented the player from using equipped weapons.
For a guide to co-op – visit this page!
We have more updates and fixes planned and we will have more news to share on that in the next few weeks. In the meantime, if you spot anything please report it through the channels on the support page.


2. Le correctif n°1
Cette semaine : Le correctif n°1 sera déployé sur plusieurs plateformes dans les prochains jours. Il corrigera des problèmes de caméra, des bugs d'animation, des problèmes de lancement sur PC ainsi que des crash. Ces corrections doivent être approuvées pour chaque plateforme et il se peut donc que les sorties soient échelonnées sur des horaires ou jours différents.


1. Jeudi 25 août : Mise à jour de l'Epic Games Store publiée dans le monde entier. Voir les notes de mise à jour ci-dessous.
Monde entier : 1.1.2.4376604
Japon : 1.1.2J.4376604
Notes de mise à jour :
Correction d'un crash lié à l'utilisation du lanceur de grenade Idol's Star.
Modification du client de jeu afin de réduire son temps de réponse. Nous gardons un œil sur ce problème et visons à appliquer d'autres correctifs pour le résoudre complètement.
Correction d'un problème qui affichait des symboles corrompus dans certaines langues sur le client du jeu.


DERNIERS CORRECTIFS
Nous continuerons à mettre à jour cette page au fur et à mesure des correctifs !
En attendant, si vous rencontrez un problème avec votre jeu, il est important de le signaler via https://bit.ly/SaintsRowSupport afin que nous puissions enregistrer, tester et rechercher les bugs.
On se voit à Santo Ileso !