Boss
Name

THE BOSS

Role

The Muscle

Goal

To be their own boss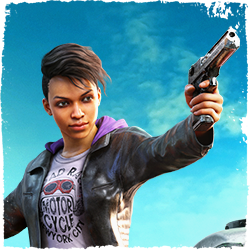 The Boss is the heart of the Saints, the glue that holds the crew together. They are also the ultimate murder machine. They shoot first and ask later. Cocky, confident, and not built for following orders, the Boss is ultimately you – you get to decide who you want to be and what you want to do, to become Self Made and form the new Saints.
Choose your voice
Boss Voice 1 - Interview
Boss Voice 2 - Interview
Boss Voice 3 - Interview
Boss Voice 4 - Interview
Boss Voice 5 - Interview
Boss Voice 6 - Interview
Boss Voice 7 - Interview
Boss Voice 8 - Interview
BACKSTORY:
By design, the Boss is light on backstory details; this is to give the player room to fill in the character's backstory however they want. What follows are the few details that are locked in.
We know the Boss recently finished with college (though we don't know what they studied or if they even graduated). Saddled with student debt, the Boss came to Santo Ileso, where they met their roommates and started working odd-jobs among the local underworld, earning enough money to cover their share of the rent. They made enough to survive, but not to thrive.
Eventually, the Boss takes a job at Marshall Defense Industries as part of the company's paramilitary security forces. It's not exciting work, but it pays well. And it lets the Boss do the things they're good at, i.e. murder, mayhem, and unspeakable property damage. That said, it turns the Boss into a little cog in the big machine—and that is not something they are built to handle.
Despite their capacity for violence, the Boss is incredibly loyal to (and loving towards) their roommates. They have absolutely no ability to evaluate risk.
They constantly propose (or just dive in and initiate) mad-cap, over-the top plans—all of which they consider perfectly rational. Why do things in a simple, straightforward way when you can do them with egregious violence, excessive chaos, and extreme risk to life and limb?
In other words, why not do it like a Saint…
FUN FACTS:
• Genially irresponsible
• Obstinate. Contrary. The fastest way to get them to do something is to tell them not to do it.
• They are often wrong, but never uncertain.
• Paying off student loans
• Sees outlandish and dangerous things as reasonable, rational, and commonplace. They don't see risk like normal people do.
• Loyal to and loves their roommates.
Kevin
Name

Kevin

Role

The Guy With the Contacts

Goal

To take care of his friends and his crew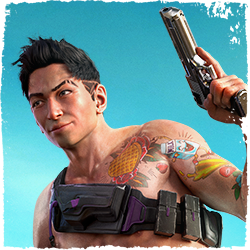 Kevin is a music-loving thrill seeker who knows how to throw a party, and he's the Saints publicist and fixer. He's a notorious Santo Ileso DJ with connections all over town, which makes him the guy who knows the guy who knows the guy; if you need something, Kevin knows who can get it for you. He loves people, is super loyal to his friends, and would do anything for them. He's also a great cook… and, given his connection to the Idols, he's got no qualms at all about breaking eggs to make his omelets.
BACKSTORY:
Kevin never knew his real parents, bouncing from foster home to foster home. As a child he was desperate to be adopted and so developed a people pleasing complex, hence his love of cooking and being a DJ. He defines his worth in how happy he makes other people. He never found a family as a kid, but now that he's an adult he's finally found solace in building one with his friends.
He joined the Idols early in his DJ days. They were an underground thing then, slowly infiltrating the party scene. He joined because it was a place to belong. He felt seen and heard—and having grown up in the foster care system, he found their ideology appealing (plus smashing shit up can make for a good time). He genuinely believes that the Idols want to make things better for people.
Kevin has recently arrived back in Santo Ileso with the Idols. Although loyal to them, he is not unaware that most Idols live on communes while the Collective live on a fancy yacht. Kev instead chooses to live in a low-rent apartment with his friends. It is only when the Idols force him to choose between them and his friends that he realizes where his true loyalty—and family—really lies.
FUN FACTS:
• Interests: thrill-seeking, partying, music, cooking.
• Always thinking about his friends. People pleaser and caretaker. The guy who makes sure everyone stays hydrated on a bar crawl.
• Pansexual and polyamorous (or, as he'd say it, he's attracted to people's hearts)
• A health and fitness freak. He's constantly working out and taking care of his body. Refuses to wear a shirt.
• Knows people in all kinds of odd places; they are usually referred to by various nicknames: "Pizza Dave", "Minnie from Accounting", "Other Bob", etc.
• Wants to be a part of everything. Suffers from FOMO—both in activities and social interactions.
Eli
Name

Eli

Role

The Planner

Goal

To build an empire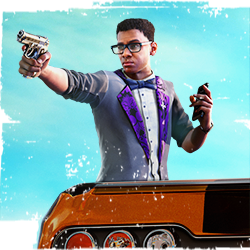 Eli is the long-term strategic thinker of the Saints, the one who knows how to take them from small time operators to a big time organization. A business mastermind, Eli is driven and determined to build an empire. He came to Santo Ileso to make his fortune as an entrepreneur, to start a business for himself. He just didn't realize that his startup was going to be a criminal empire.
Backstory
A first-generation American, born in the Midwest to Nigerian parents who came to the US on student visas in the mid-1980s. Raised with a strong work ethic and high aspirations (his mother is a biochemist and his father an economist), Eli desperately wants to succeed. However, he wants to do it on his own terms rather than follow someone else's path. He lives his life following the Gospel of Shark Tank and TED Talks.
Eli took all of the money he saved working in college (and selling plasma) and moved to Santo Ileso because it met his requirements of "large urban environment" and "low property value". Eli believes he can make a killing on real estate in the city. Currently all his money (and several loans) are tied up in a minor real-estate investment… which, so far, is not exactly delivering the returns he'd expected.
Eli loves his roommates and always dreamed of creating a business with them. The fact that that business has turned out to be a criminal empire is not what he expected, but what the heck. The principles are the same. He may not have combat experience (by choice), but he DOES have a degree in business and a minor in marketing, and he intends to apply that knowledge in building up their criminal empire.
Fun Facts
• Interests: Lifehacks, productivity, TED Talks, motivational speakers.
• Unironically loves country music
• Dresses to impress. He loves bow ties.
• Always investing; always thinking about business. Prefers a hostile takeover to open hostilities.
Neenah
Name

Neenah

Role

The Driver

Goal

To earn the money and respect she needs to live her dreams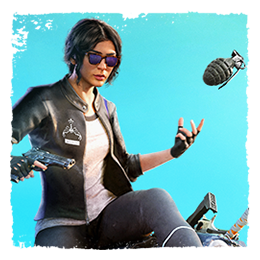 Neenah is the Saints' getaway driver—the best in the business—and has a long association with Los Panteros. She has had a deep-seated love of cars all her life and knows them inside out. But more than just a gear-head, she also loves art. Whether it comes to fixing engines, building sculptures, or running contraband, Neenah is a natural at getting her hands dirty. Calm and cool-headed, there's no one better to have at your back in a tight spot.
Backstory
After Neenah's mom died when she was 15 (cancer), she was raised by her father. Both her parents were mechanics. Neenah loved cars and always expected to follow in their footsteps, but they wanted her to go to college in the US. Her father wanted her to study engineering; her mother wanted her to follow her heart and study art. Neenah followed her departed mother's advice.
After getting a degree in anthropology and art history, Neenah applied for every entry level museum job she could find. There were none. Paid internships were filled by nepotism. She ended up with an unpaid internship at the Museum of Santo Ileso but quit after a month because working without getting paid is bullshit.
Refusing to go home and give up on her dream, Neenah got a job as a mechanic to pay bills, where she fell in with the Panteros. As her relationship with the Panteros sours, Neenah cuts ties with them to join her roommates in their criminal venture. With them, she will not only get a bigger cut of the money—she'll also get the respect she deserves. And with enough money and respect, Neenah will be free to finally follow her heart.
Fun Facts
• Interests: art, cars, history, Santo Ileso local lore, Ranchera music, tacos, PBS.
• Frequently sketches to figure out ideas, whether it's solving a mechanical problem or designing a new paint scheme for her car.
• She's especially focused on Meso-American art and culture.
• The love of her life is the car she rebuilt from the ground up.
SNICKERDOODLE
Name

SNICKERDOODLE

Role

The Cat

Goal

To con humans into providing food and shelter (Goal achieved.)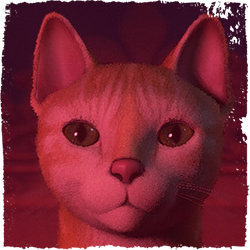 The beloved pet—and unofficial mascot—of the Saints.
BACKSTORY:
Snickerdoodle was born under a trailer in one of the poorer parts of Santo Ileso, to a technically-feral mother who had worked out that proximity to humans resulted in better health for kittens. Snickerdoodle's mother was never domesticated, but Snickerdoodle and her siblings grew up being handled by and accepting food from humans.
Abandoned when the owners of the trailer relocated, Snickerdoodle spent her young adulthood on the streets of Santo Ileso, dining on rodents, birds, and handouts from humans. Too savvy to venture outside the city limits, where coyotes posed a genuine danger, she set about making the city streets her own, systematically defeating leader after leader of the various feral cat colonies until no feline denizen of Santo Ileso would challenge her.
Having proven herself and Become Her Own Boss Cat, Snickerdoodle decided to retire and live in luxury as a human pet. She systematically evaluated human marks until settling on the human Kevin as the most reliable provider of food (indeed, after the second week, she no longer even needed to meow plaintively outside the building; Kevin already had food put aside "for that stray I see all the time.")
When the human Neenah began a campaign to convince Snickerdoodle to live inside, Snickerdoodle allowed it to work. The first night she spent at the apartment, the human Kevin was baking Snickerdoodle cookies. Snickerdoodle meowed acceptance of this name to prevent them choosing a worse one.
Snickerdoodle is now living her best life: with food reliably provided by humans, she only hunts for fun, leaving uneaten rodents and birds for her humans as an expression of gratitude. Occasionally she vanquishes an upstart feral cat, also for the fun of it. These hobbies keep her skills (and claws) sharp for those occasions when true warfare is necessary – usually against those who try to hurt her humans.
If asked, Snickerdoodle would say that her protectiveness of her four humans is rooted in practical reasons; it would be inconvenient to have to con new ones, and maybe none of them would cook chicken livers for her like Kev does. In her heart, however, Snickerdoodle knows it's more than that. These are particularly good humans, who care about each other and her. They'd never move out and abandon her to fend for herself. She is therefore loyal to them in turn. You can be a murder machine primarily looking out for number one and still be true to your friends. In a way, that's what being a cat a Saint a cat Saint is all about.
FUN FACTS:
• Meow
• Hiss
• Purrrrrrrrrrrrr…